Concept Korea returned to Lincoln Center for it's 10th year to present their Spring/Summer 2014 collections. The talent platform chooses the best of Korean design and gives them a chance to break into the US market. It's is organized by the Ministry of Culture, Sports and Tourism of the Republic of Korea, the Daegu Metropolitan City, the Korea Creative Contents Agency, and the Korea Research Institute for Fashion Industry.
Behind Concept Korean is the industries powerhouse players, Fern Mallis, Avril Graham, Nicole Fischelis, Stephanie Solomon, Simon Collins and Phillip Bloch, who hand-pick each of the designers,
The talented designers that showed this season at Concept Korean:
Resurrection
Resurrection by Juyoung Lee is inspired by functional fashion and the transformative power of clothing. The brand is edgy, sexy and uses lace, zippers and translucent fabrics juxtaposed against masculine shapes to create a wearable, yet clever line. The VIP followers of the brand include Lady Gaga, Marilyn Manson and the Black Eyed Peas. www.resurrectionbyjuyoung.com
Resurrection's Spring Summer 2015 collection is titled, "Casual and Masculine." The line fuses structured, masculine silhouettes with the free spirit of rock & roll culture and high-end fashion. Using high-tech fabric, the collection incorporates functional styles with minimal tailoring creating a synergy of artistic yet wearable clothes.
Leyii
Seunghee Lee is a Korean, London based designer. Seunghee moved to London at an early age and graduated from London College of Fashion with BA First Class Honor Degree in womenswear. Following her BA Graduate show, she completed her MA in womenswear from Central Saint Martins School of Art and Design. After successful MA graduation, she took charge of several collections for Samsung Fashion Department then worked as the creative director at a bespoke tailoring house. She collaborated with photographer Giles Bensimon for Elle Korea Magazine April 2009.
LEYII's Spring Summer 2015 collection is titled, "Rhythmic Contrast." Inspired by Alexander Calder, LEYII uses straight lines, flat surfaces and primary hues to create natural curves and rhythm in her collection. Achieving this "balanced contrast" is accomplished through mixing various materials and colors in disorienting ways, creating 3 dimensional silhouettes.
Beyond Closet
Beyond Closet, designed by Taeyong Ko is a menswear brand representing classic items reinterpreted for men in their twenties and thirties. The collection is a mix of practical, sophisticated and distinguished pieces. www.beyondcloset.com
Beyond Closet's Spring Summer 2015 collection is entitled, "B.C. School Gang." The collection will feature graphic tattoo artistry that is blended into classic Beyond Closet silhouettes.
The audience included Fern Mallis, Phillip Bloch, Miss Jay Alexander, Lily Lane, and Lenay Dunn.
Although many cultures rely on the purity of white to carry brides throughout their wedding day, the Korean culture instead opts for color. During a traditional Korean wedding, both the bride and the groom wear elaborate costumes in bold, bright colors. Traditional Korean wedding dress is intricate, colorful and vibrant.
Bride's Wonsam
Traditionally, a Korean bride wears a Wonsam and a Hanbok on her wedding day. As explained by LifeInKorea.com, the Wonsam is "an elaborate topcoat with flowing sleeves." The outside of the garment is made with red silk, while the inside is made with blue silk. The sleeves are often striped with vibrant colors. Beautiful embroidered flowers embellish the front and back of the Wonsam, symbolizing nobleness, wealth and longevity.
Bride's Hanbok
This overcoat is worn over the hanbok, which consists of a skirt and a shirt. The shirt typically features a short length and long sleeves, while the skirt features a high waist and a hem that falls to the floor. The Korean bride might also tie a silk belt, the daedae, around her overcoat. This belt is traditionally made of red silk with gold embroidery.
Hairstyle
For a traditional Korean wedding hairstyle, the bride's hair is tightly pulled back and away from the face. The entire length of hair is gathered and tied at the nape of the neck. Other Korean wedding hairstyles involve more elaborate tiered styles, which involve gathering the hair into a large bun. A long hair pin featuring a dragon's head decorated the hairstyle. Some Korean brides also choose to wear a crown or black cap embellished with jewels.
Accessories
On her wedding day, the Korean bride wears minimal makeup. However, she will have three red circles painted on her face, one on each cheek and one on her forehead. According to WeddingsAtWork.com, these small red circles are meant to "ward off evil spirits." Korean brides wear white socks and silk shoes. These shoes, which resemble the shape of a boat, feature elaborately embroidered designs in rich colors.
Groom's Dress
The Korean groom wears three main articles of clothing: the paji, cheogori and dalryeongp'o. His pants, the paji, feature wide, baggy legs. Two strips of cloth tie the pant legs around the ankles, ensuring the pants remain inside the boots. The groom's shirt, the cheogori, has loose sleeves and typically falls to the waist or slightly below. The dalryeongp'o is the groom's jacket, which he wears over the shirt and pants. The jacket is traditionally colored blue or maroon with an intricate embroidery of two cranes near the middle of the chest. A belt is worn over the jacket to keep it in place. The groom wears a simple pair of black cloth boots, known as Mokwha.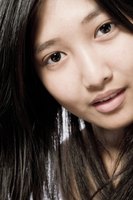 Asian beauty varies according to the region, but two things are constant: Asian women share a love of beauty and take pride in their looks. And just as the Western world has adapted to all types of looks and features, so has Asia.
Eyes
As far south as India and as far north as China, the focus of beauty is surrounding the eyes. There are different eye shapes on the Asian subcontinent, ranging from slanted to almond-shaped, and they are typically accentuated by eyeliners and mascara. Eyebrows are often shaped naturally using a method called threading, which is popular in south Asia.
Skin
In Asian culture, the lighter your skin is the more beautiful you are considered. Consequently, many Asian women bleach their skin or use face cream to lighten and even out skin tone. In addition, there are many spa treatments used to give skin an even glow, including green tea steam facials, turmeric paste masks, mud masks and skin cleansers, and soaps that contain milk.
Makeup